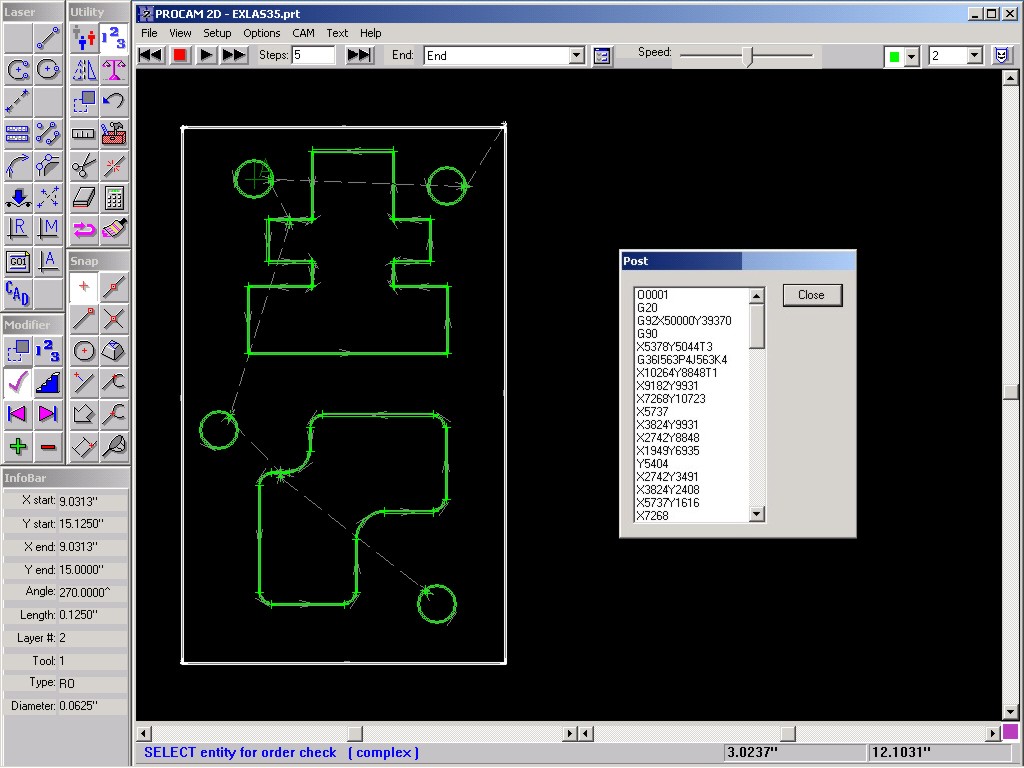 CAM2000S Vandebussche NV
Wij installeren 2D Punching software CAM2000S in samenwerking met fabrikant VANDENBUSSCHE NV. CAM2000S bevat functies als optimalisatie bewerkingsvolgorde, simulatie en tijdsberekening zijn standaardfuncties die de gebruiksvriendelijkheid verhogen.
free updates
online ondersteuning
email trouble shooting
DNC4U
Data overdracht software in samenwerking met DNC4U. Deze software maakt het uiterst eenvoudig om je data te versturen over RS323 protocol van PC naar Machine en omgekeerd. Vele machine operatoren werken nog met oudere DOS programma's die meer en meer compatibiliteitsproblemen geven. Deze DNC4U software is daar de oplossing voor.
Wil je een free trial, klik hier.
DNC4U – DNC software has everything you need to transfer via RS232, edit, write and compare programs.
What stands out with this RS232 easy DNC software package? DNC4U is full featured! Multiple CNC machines can be set up with different settings, complete G code editor/writer and file compare utilities, supports more COM ports than you could ever use. Supports RS232, wireless and Ethernet protocols. Customizable for other languages and the PRICE IS UNBEATABLE for what you get! Yes, there are some free RS232 software programs out there and they do work, but for most you can configure only one machine and cannot save multiple settings. Saving multiple settings is a must for as often you need to transfer data.
Want to download a free DNC trial? See below note! Click here to download DNC4U
Please NOT you must right click the DNC4U link in your program menu the first time and select run as administrator!
DNC4U Complete Feature Set:
Send and receive files between your CNC and your PC. (Windows 98, 2000, ME, NT4, XP, Vista, Win7 & Win8 – 32 & 64 bit)
Edit your NC code in our color coded editor.
Setup RS232 CNC protocols with our built in Terminal mode specially designed for debugging CNC data.
DNC Wizard automatically detects your CNC protocols and end of blocks.
Works with physical com ports, USB RS232 to Ethernet devices, and wireless ports.
G Code Inserter automatically inserts from a list of G and M codes – it is user definable so you can create your own.
Additional NC tools such as Re-sequence, Math Transformations, File Sync and Reformatting etc are also included.
Select CNC Save-All and in one-shot save all NC files in CNC library into individual files using the CNC program number.
CNC Save-all also saves files using the comment at the side of the program number for added flexibility.
File merge – merge files so they go into the CNC without any editing.
File split – split legacy files from Fanuc and others (Heidenhain, Okuma, most Jap CNC) into separate NC files.
Preset DNC settings for many popular CNC machines.
Restart easily after a tool break anywhere in the NC program.
Supports ASCII/ISO and EIA character sets.
Supports unlimited file size drip feeding using XON/XOFF, RTS/CTS handshaking.
Supports Heidenhain Blockwise for drip-feeding unlimited sized files (Program Run Full Sequence).
Supports Haas Xmodem drip-feeding (Send and Receive).
When drip-feeding, an exact image of the file is sent, just in case your server fails during transfer of the long file.
Supports FTP file transfer with IP address setup (Send and Receive).
Support for paper tape punch and man-readables.
Save and send files with any file extension, into any folder anywhere.
Side by side file compare.
Audit Trail Received Files.
Barcode scan the file name direct off your job sheet – no more typing.
Wireless Monitor pings your wireless device to check it's still online.
Fully customizable form, menu and command button captions – great for languages other than English.
Don't be fooled by the low price, you can only buy on the web.
Free lifetime key replacement, software upgrades and no annual maintenance charges.
Want to download a FREE DNC Trial? Click here to download DNC4U. Click here to download DNC4U
The 60 day trial is full featured RS232 DNC software and has nothing disabled in the trial version. DNC4U Full version is the same and we will send a license upon purchase to remove the trial limitation.
Compatible with Windows 98/ME/XP/Vista/Win7 (32-bit and 64-bit) / Win 8 (32-bit and 64-bit)